The pre-engineered steel building system in itself offers great advantages to the customer as a more feasible, practical and efficient alternative to conventional buildings. The system has earned acceptance across the world and is gaining rapid ground in India as well.
Pre-Engineered Buildings are a viable option to lead the way in the "Building Green" revolution. The definition of "Building Green" design, in terms of Pre-Engineered Building design and construction, is very simple more than 96% of complete Pre-Engineered Building components are made of aluminum or steel. Aluminum or Steel materials are recyclable and re-usable as it is with minimum loss. PEB building are also energy efficient when designed to have adequate ventilation and lighting using natural ridge ventilators and FG/FRP skylights. Prolonged life of PEB Buildings with minimum maintenance cost, by building a PEB structure, no negative impact so far recorded on eihter the surrounding environment or the greenhouse effect. PEB building system are consider as completely environmental & energy friendly system.Some of the distinct advantages include:
PEB Nomenclature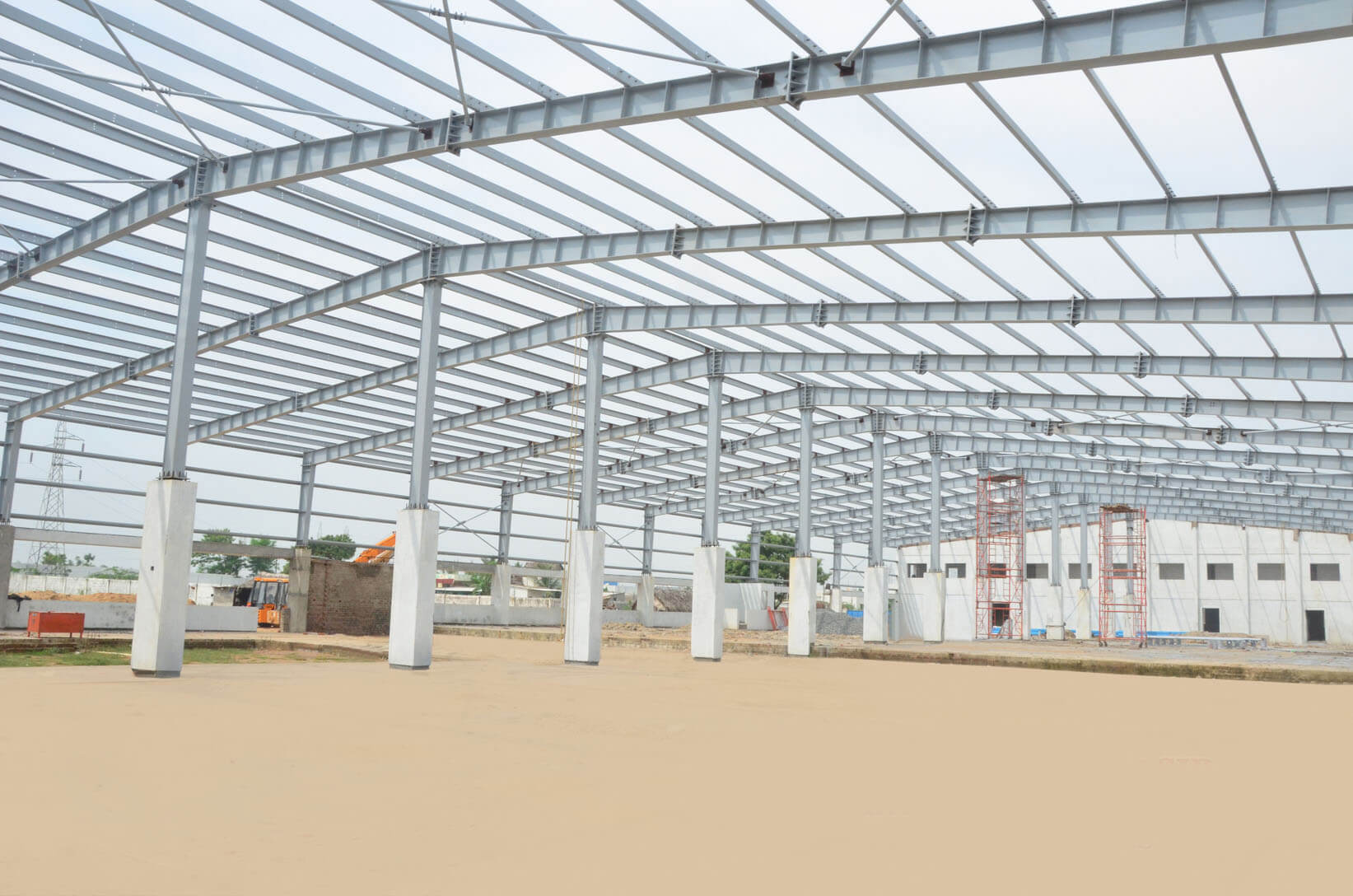 PEB Frame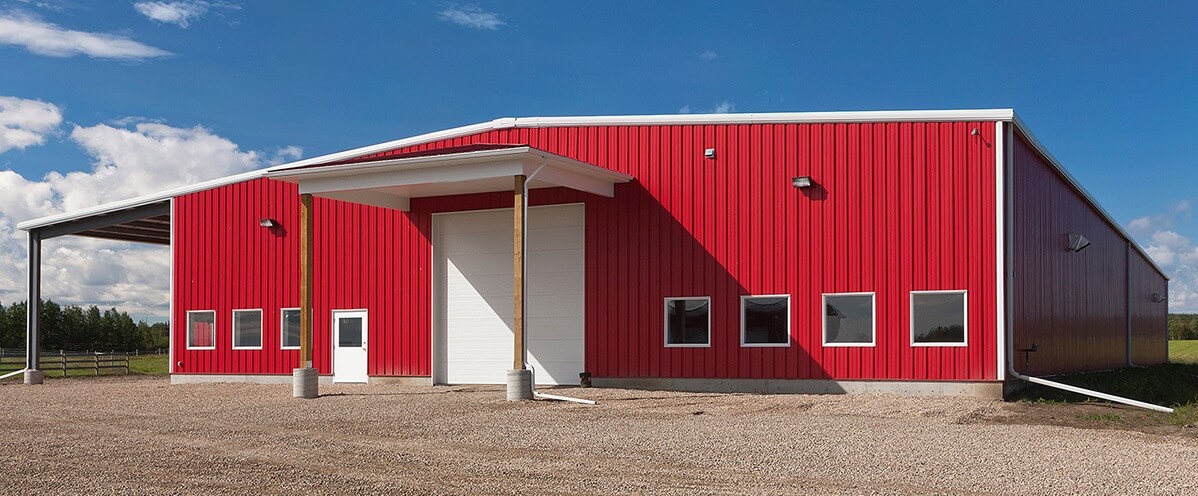 PEB Building
Reduced Construction Time
Due to the systems approach, the use of high strength steel, use of tapered built-up sections which are optimized by the computerized design program and the use of continuous light gage secondary steel section, there is an overall reduction in steel weight, cost and time relative to conventional steel construction.
Pre-engineered buildings are a predetermined inventory of raw materials that has proven over time to satisfy a wide range of structural and aesthetic requirements. The components are engineered beforehand and standardized. Use of these standard components reduces the engineering, production and erection time. Use of customized software for design & drafting increases the speed of the project.
The production line is highly sophisticated, having Auto welders, multi-cutting torches, shear cutting machines etc., which greatly reduce the time of fabrication of built-up components. Roll forming machines for producing Z & C members and sheeting, having standard dimension, increases the production capacity of secondary members. Use of standard accessories greatly increases the speed of production & erection.
Buildings are typically delivered in just a few weeks after approval of drawings. Foundation and Anchor Bolts are cast in parallel with manufacture of the building. Site assembly is fast, as all building components are delivered finished, ready for site bolting. It can reduce total construction time on a project by at least 50%. This will allow faster occupancy and earlier realization of revenue.
Design and Engineering
Since PEB's are mainly formed of standard sections and connections, the design time is significantly reduced. Specialized computer analysis and design programs optimize material require. Drafting also computerized using standard details that minimizes project custom details. The low-weight flexible frames offer higher resistance to seismic forces.
Our design and engineering team is trained to handle these complex software enabling them to design complex custom designed building structures. Our design and engineering team and our in house capabilities enable us to have strong built on knowledge of our experienced personnel. Working on latest design tools are Autodesk AutoCAD, STAAD Pro, MBS, Stru AD, ETABS NL, 3Ds Max Design&Tekla X-Steel.
Lower Cost
Due to the systems approach, there is a significant saving in design, manufacturing and site erection cost. The structural elements are shaped to follow the stress diagram of the member, thus reducing weight, cost and load to foundations. The secondary members and cladding nest together reducing transportation cost. The overall price per square meter may be reduced as much as 30% lower than conventional steel.
Foundations
Pre-engineered Buildings are about 30% lighter than the conventional steel structures. Hence, the foundations are of simple design, easy to construct and lighter weights.
Erection
Since all the connections of the different components are standard, the erection time is faster.
Flexibility of Expansion
Buildings can be easily expanded in length by adding additional bays. Also, expansion in width and height is possible by pre-designing for future expansion.
Large Clear Spans
Buildings can be supplied to around 90M clear spans.
Quality Control
As buildings are manufactured completely in the factory under controlled conditions, the quality is assured.
Low Maintenance
Buildings are supplied with high quality paint systems for cladding and steel to suit ambient conditions at site, which results in long durability and low maintenance costs.
Energy Efficient Roof and Wall Systems
Buildings can be supplied with polyurethane insulated panels or fibreglass blanket insulation to achieve required 'U' values.
Architectural Versatility
Buildings can be supplied with various types of fascias, canopies, and curved eaves and designed to receive pre-cast concrete wall panels, curtain walls, block walls and other wall systems.
Single Source Responsibility
As the complete building package is supplied byus (single vendor), compatibility of all the building components and accessories is assured. This is one of the major benefits of the pre-engineered building systems.
Pre-Engineered Building Concept
Pre-Engineered Buildings (PEB) were introduced into the steel building industry to facilitate fast design, delivery and erection of simple low rise structures like canopies, warehouses etc. PEB can be constructed in much less than the normal time for other structure. PEB is a structural concept whereby all the components of a building are designed, detailed and fabricated to suit the specific requirement of design and serviceability, yet very much standardized to facilitate ease in design, Detailing, fabrication and erection. There would be absolutely no cutting or welding at site. The erector would only use spanners to connect the various elements together.
PEB buildings are made up of 3 major components. They are:
Primary Framing
Primary Framing consists of columns and rafters with tapered web and variable flanges. These are manufactured by welding together cut plates to form the desired frame I - sections. The tapered sections are welded at factory / bolted at site at splices to form the desired frame profile. These frames in PEB are normally moment resisting frames with fixed or pinned bases as mandated by the design.
Secondary Framing members
Secondary Framing members are purlins and girts made of cold formed sheets. Normally, secondary framing members are in Z or C shapes. Purlins which are used to support roof sheeting and the girts at longitudinal walls are normally designed as continuous members. However, the girls at transverse or short walls are normally designed as simply supported beams. The spacing of secondary framing members are primarily dictated by the capacity of the cladding to span in between the purlins/girts.
Cladding
Cladding comes in a variety of profiles which are customized to suit structural and aesthetic requirements.
Structural Profiles in PEB
Figure-2 shows some of the typical frames used in PEB. The various profiles for the primary members are chosen based on the requirement in terms of the building usage, loads, economy etc. The chosen profiles are spaced at distances varying from 6 to 10rn in order to form the length of the budding. Quite often in buildings a combination of all the profiles indicated are used. This gives lots of flexibility for the building configuration.